Sarah formed her quartet with composer and pianist Simon Wallace in 2002 when she released her first CD, It's A Nice Thought on Linn Records.  This was followed in 2004 by Something's Gotta Give, A Lazy Kind Of Love in 2008, and Songs From The Floating World in 2014.
Watch the EPK for  Songs FromThe Floating World
SIMON WALLACE has had a varied international career as a composer, pianist and musical director. He has performed in 26 countries and appears regularly at Ronnie Scott's Club, The Vortex and the 606 Club in London and has played several seasons at The Cafe Carlyle and The Metropolitan Room in New York. From 1993 until her death in 2011 he wrote songs with American lyricist Fran Landesman and for over 30 years worked with the late Simon Brint composing music for some of Britain's most popular TV shows. He has been musical director for many singers including Ian Shaw, Claire Martin and Clare Teal and in recent years Barb Jungr.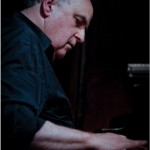 ---
MICK HUTTON (bass) has played on over sixty albums and performed worldwide. Amongst the artists he has played with are: Django Bates, Kenny Wheeler, Jack Bruce, Bill Bruford, Humphrey Lyttelton, Nigel Kennedy, Acker Bilk, Jim Mullen, Gary Husband, Bob Berg, Pharoah Saunders, Tommy Smith, Courtney Pine, John Scofield, Annie Ross, Mose Allison, Bobo Stenson and Ian Shaw.  He has a unique sound and feel that has made him a stalwart on the UK Jazz scene.
---
PAUL ROBINSON (drums) began working professionally in 1970.  He has worked with Van Morrison, Zoot Money, The Buggles, Cleo Laine, Billy Ocean, Billy Connelly, Jesse Green, and Colin Hodgkinson's Back Door. Session work includes Paul Mcartney, Tracy Ullman, Jan Hammer and Swans Way. He spent 19 years touring worldwide with Nina Simone, and was a member of Trevor Horn's Art of Noise. Recent work has included three world tours with "Sing The Truth", featuring Dianne Reeves, Liz Wright, Angelique Kidjo, Patti Austin & Simone.